Not that many years ago, some of us, with a touch of gray recall, that a V8 pickup, on a good day, pumped out less than 200 hp and 300ft/lbs of torque and had a towing capacity of about 8,700 lbs. Despite numbers lower than today's engines these trucks had all the power needed to handle the everyday tasks of the farmers, construction workers, and tradesman who drove them.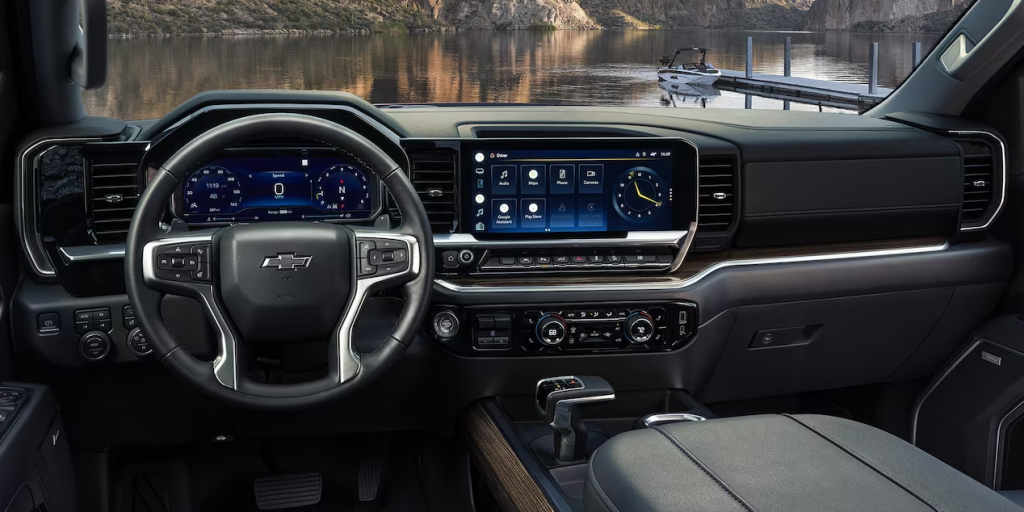 Now we have the 2.7L 4-cylinder high-output turbo engine that naysayers love to declare has no guts, and is barely up to the task of hauling the groceries and dog food home from the shop.  In reality the 2.7L outshines those V8's of the past by a large margin. It even measures up to the capabilities of todays V8s. So closely in fact that the naturally aspirated V8 engine better watch its' back.
The 2.7L high output engine has been tuned to torque, torque and more torque which means that when you're ready to go, it moves with an immediate responsiveness and power that surprises even the most enthusiastic V8 lover.
While the 5.3L V8, may outproduce the 2.7L in hp 355 vs 310, the 2.7L produces a whopping 430 ft/lb of torque vs the 5.3L at 383 ft/lb. That focus on high on-demand torque, delivers an impressive throttle response, with an immediate take off that puts you back in the seat and makes towing a breeze.
Paired with the same eight-speed transmission as the 5.3L V8 and in the 2.7L it feels like a perfect match. In the 2.7L the eight-speed transmission shifts smoothly, always seems to be in the right gear and isn't shy about downshifting when its needed. Not that it needs too very often, while riding that wave of torque.
As for towing the 2.7L in a 4x4 Crew Cab, short box layout, has a towing capacity of 9,000 lb, just 200 lbs shy of the same configuration 5.3L V8.  Once again it all comes back to that high, on-demand torque. This engines wide bore cylinders and dual turbo generate nearly instantaneous response with significant torque, even at low RPM, that provides all the power needed to get plenty of mass moving quickly.
Just looking at the numbers, the 2.7L Silverado starts to look like a real great deal, especially when you account for the better fuel efficiency and lower sticker price.  Now we can compare numbers all day, but at the end of the day it's how driving it feels, and getting behind the wheel is the only way that you can truly understand what this torque loving truck can do.
So do yourself a favour, get in touch today and lets' head on out on a test drive in one of these hardworking trucks.  For those die-hard V8 fans hesitant to give it a shot, consider this. If you actually want to out-match the diminutive 4-cylinder 2.7L with a V8, you are going to have to go big, as in 6.2L V8, or go home, because the 2.7L officially puts the 5.3L on notice.  Don't believe us? Your only option is to get behind the wheel and prove it.