Learn More About Jim Gauthier Chevrolet
New and Pre-Owned Vehicle Dealer and Repair Centre
Opening its doors at 1400 McPhillips in 1990 Jim Gauthier specialized in new Chevrolet, Oldsmobile and Cadillac vehicles as well as quality pre-owned vehicles. With the discontinuation of Oldsmobile and the opening of Jim Gauthiers standalone Cadillac store, today this location is now dedicated to new Chevrolet vehicles and as a pre-owned vehicle outlet centre, featuring almost any make or model of vehicle. A premier sales & service destination, our continued association with the Chevrolet brand, our family values and commitment to providing the best customer service experience possible, means that we are able to offer an experience unlike any other. Backed by the reputation earned by our founder Jim Gauthier we are known as the home of the Big Guy deal. That big guy deal is our promise to you, the customer, that we will do everything in our power to provide you with the best price and financing options possible for a new or quality used vehicle and support you in your vehicle ownership experience for years to come.
Sales
At Jim Gauthier Chevrolet we are a customer first dealership. That means we look for sales specialists who are enthusiastic about matching the right person with the right vehicle. Our sales team works hard to stay informed in order to provide you with the answers to any questions you may have, and our goal is making your vehicle purchase experience both an easy, open and positive one.
Finance
As one of Manitoba's top dealerships our financial advisors receive access to the best rates from a multitude of banking options. This means our business and finance team can get you the best rate and terms possible for your next vehicle purchase even if you have lower than average credit.
Service
We have you covered for all your vehicle needs from every day routine maintenance to major mechanical repairs. We make it easy for you to care for your vehicle so that you can drive for as long and as trouble free as possible. With Shuttle services, express services such as oil changes, an onsite parts department, expert GM Certified technicians and knowledgeable service advisors we can get you back on the road fast.
Parts
Our comprehensive Parts Department carries a carefully inspected stock of OEM and Certified parts to ensure that when it comes to finding the right component for your vehicle that you are getting the same quality that you would get directly from the manufacturer. Whether you are looking for repair items or fun accessories we are sure to have you covered!
Collision Centre
Sometimes bumps, scrapes or crashes happen but we can make repairing those issues easier and get your vehicle looking as good as new quickly. We offer dent removal, paint restoration, glass replacement and much more at affordable rates. As a trusted repair center we are an accredited MPI direct Repair facility which can help get you on the road faster after a collision. When you need a quality repair facility, we've got you covered at Jim Gauthier Chevrolet.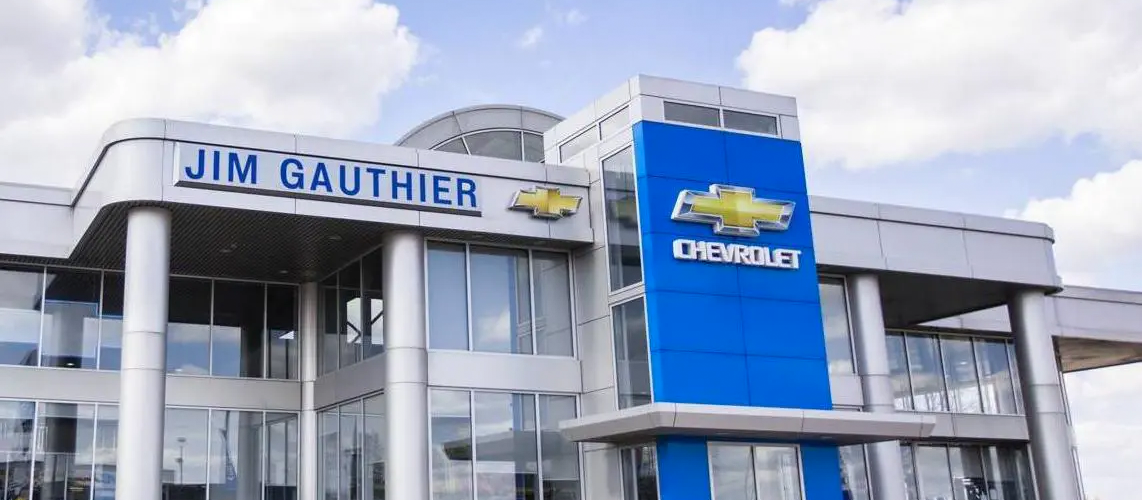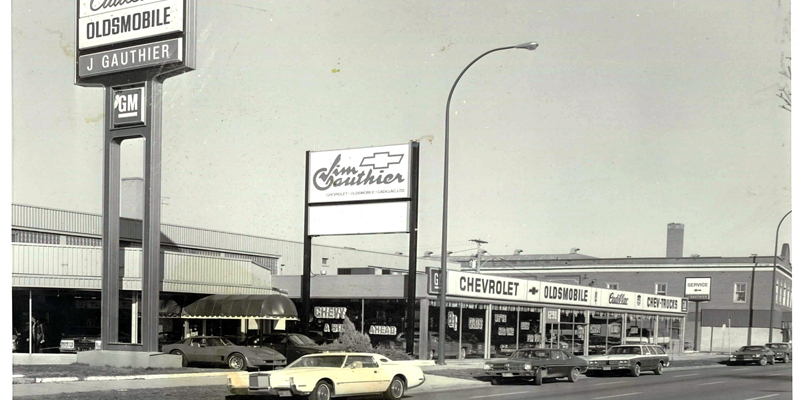 The Jim Gauthier Story
The Jim Gauthier story is one of family which started many years ago with a father and son and continuing today. Jim Gauthier the patriarch of the Gauthier Auto Group remains an active member of the Gauthier team while many of his family including his son and grandchildren fulfill various roles within the growing corporation keeping that family dynamic alive.
Jim Gauthier first worked in automotive as a lot boy at Russell Motors in the 1950's where he quickly developed, a passion for the industry. That growing passion led to the 1959 opening of Kustom Auto sales in Transcona with his father Woodrow Gauthier, in a joint venture with Boulton Motors, as a standalone Studebaker franchise. The discontinuation of Studebaker led Jim to move into a sales position at Transcona Dodge selling AMC vehicles and over time rising to the role of General Manager. Jim's focus on providing a great customer experience, from a salesman who had a passion for finding the greatest and best deals, quickly earned him a positive reputation. With support from family and his wife Joyce, who he had married in 1959, Jim continued to grow his business ventures.
In 1972 he purchased Pan-Am Motors which was sold in 1977 in order to fund the acquisition of Transcona Dodge. Next up, Jim bought out Ed Vickar Community Chev Olds at 1290 Main Street in 1980, he was able to quickly grow the dealership into one of the largest volume GM dealerships in Winnipeg.
In 1990, Jim Gauthier Chevrolet Oldsmobile Cadillac, opened its doors at 1400 McPhillips Street, where it remains to this day. It continues to operate as a Chevrolet dealership and as the Gauthier Auto groups' flagship store.
Jim Gauthiers first standalone dealership, has since grown into the Gauthier Automotive Group and now also includes: Gauthier Chrysler Dodge Jeep RAM (1998), Gauthier Cadillac Buick GMC (2001 becoming two seperate showrooms Buick GMC and Cadillac in 2022), Jim Gauthier's Waverley Chrysler Dodge Jeep (2005), The Jim Gauthier Collision Centre, and Jim Gauthier Kia (April 2021)c.
Jim now in his 80's continues to keep an office at the Chevrolet location and remains in an active role within the corporation. Throughout his successes in business Jim Gauthier has often found ways in which he has been able to share that success by giving back to the community.
Jim Guathier supports a variety of philanthropic ventures, including as a Co-founder of the Dream Factory (a made in Manitoba version of the Children's Wish Foundation). He has also given significantly to the Canadian National Institute for the Blind's Guide Dog program, The Canadian Museum for Human Rights, Winnipeg Harvest, and the Winnipeg Humane Society amongst many others.
We love our community! Jim Gauthier Chevrolet has donated to and supports: